GARAGE DOOR REPAIR & SERVICES
Garage Door Issues
If your garage door is not functioning properly, there are a few common issues that could be causing the problem including a malfunctioning opener, broken springs, damaged tracks, worn-out rollers, loose hardware, or misaligned or faulty sensors.
It is highly advisable to contact a reputable garage door repair service to assess your garage door's issue. While there are a few common garage door issues that you may be able to troubleshoot and resolve on your own, many repairs involve parts under high tension that can serious injury and property damage if not handled properly.
The trusted team at Garage Door Doctor has help thousands of our neighbor fix their garage doors over the past two decades. We strive to serve each our customers the day they give us a call and our technicians are trained to correct the problem with your door in an efficient and cost-effective manner.
For service and service-related questions, call Jeff at 704-705-8444 and see how Garage Door Doctor can help. We offer same day service, nights and weekends at NO extra charge.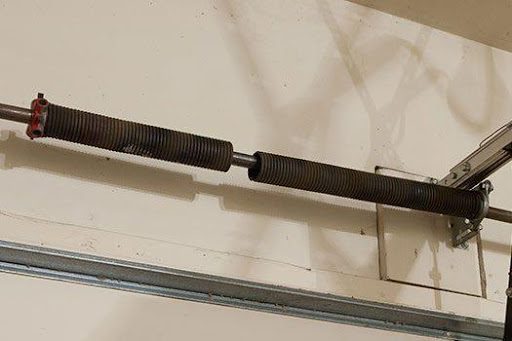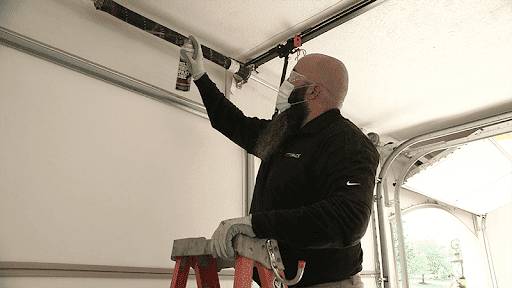 Troubleshooting Your Garage Door Issues
If your garage door won't go up or down, the first thing to check is the power source. Make sure the opener is connected to a power outlet and that the circuit breaker is not tripped. If you can easily access the outlet powering your opener, try plugging in a hairdryer to see if you have power.
If your door is going down or part of the way down and coming right back up, inspect your sensors for alignment. Additional symptoms of sensor misalignment include you having to hold down the garage door button until the door is closed and the light on the opener flashing. Click here for a short video on how you can realign your sensors.
If the power is on and the sensors are aligned and yet the door still won't move or is making loud noises, it's best to call the professionals at Garage Door Doctor. We will assess the issue and provide a cost-effective solution to get your garage door functioning correctly again.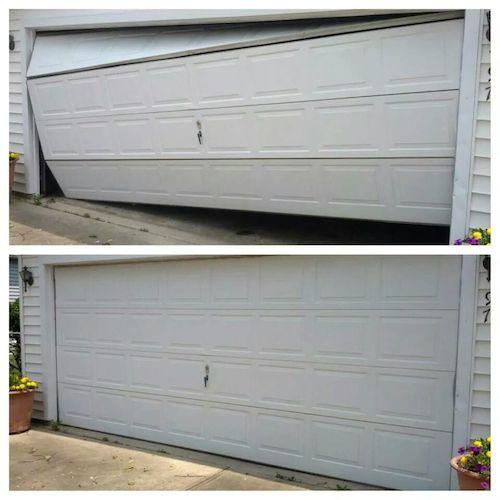 Section/Panel Replacement
Garage doors get damaged and worn out.  Section or panel replacement can be a cost-effective alternative to replacing your whole door.  We have helped many neighbors – particularly in HOAs – replace door sections at a fraction of the cost of a new door.
If you're thinking about a new door because part of your door is damaged or worn out, or if your HOA is giving you a hard time about the condition of your door, give Garage Door Doctor a call.  We carry, or can get, matching panels for almost any type of door.
Annual Check-up Program
We don't just fix broken doors at Garage Door Doctor; we help prevent them from breaking in the first place.  Regular maintenance is essential in preventing future issues and extend the life of your garage door.  This includes lubricating moving parts, inspecting cables, rollers, drums and weather stripping, adjusting the opener limits, and tightening any loose hardware.  Call us to learn how you can benefit from Garage Door Doctor's annual checkup program.
Common Garage Door Services
Hardware Realignment and Replacement
Preventative Maintenance
High Lift Conversion
Moving Part Lubrication
Torsion Spring Replacement
Cable Replacement
Track Realignment and Repair
Door Realignment
Opener Repair and Replacement
Roller Replacement
Offtrack Door Repair
Damaged Panel Replacement
Weather Stripping Repair and Replacement
Sensor Realignment
Common Garage Door Services
Hardware Realignment and Replacement
Preventative Maintenance
High Lift Conversion
Moving Part Lubrication
Torsion Spring Replacement
Cable Replacement
Track Realignment and Repair
Door Realignment
Opener Repair and Replacement
Roller Replacement
Offtrack Door Repair
Damaged Panel Replacement
Weather Stripping Repair and Replacement
Sensor Realignment